Safari in France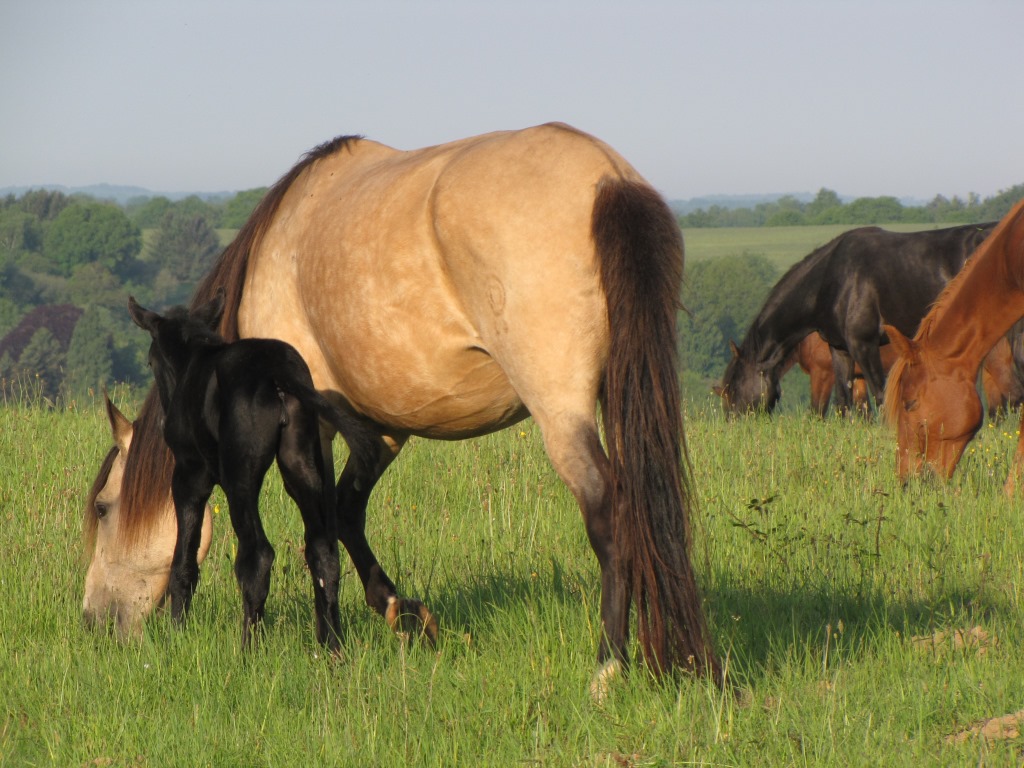 Wake up, opening your tent or caravan and having a view over meadows filled with beautiful horses in sloping meadows.... that's the ultimate outdoor living! And that's why we created some places for real canvas safari tents and pimped caravans. These tents and caravans have all comfort you can imagine but in the mean time they will give you a back to nature feeling. Glamorous camping (glamping) without taking a lot of luggage!
Only adult camping, for people who want to camp without children
Today's adults have a full and hectic live, a bussy job, babysitting for (grand)children, a social live. What would be nicer then going on holiday and have time enough to spend only for yourself and your partner? A holiday where you can do whatever you want and where all facilities to have a wonderfull time are in place.
The idea you might get of a campsite with only 50+ people is incorrect. Because also more and more teachers, babysitters and hardworking thirty-ers like the adults-only concept very much. Come and try it yourself!
At Ferme des Jolies Allures different places are available. We have places around the water and on the field, with or without view on the horses. Most of the places do have electricity and are half in the shade.
We rent luxury safaritents and "pimped" caravans. The campsite has a showerblock with a toilet, a sink and a shower. A second sink is at the "tent"field.
We sell products of our farm(fruit, juice, syrup, jam) and the bakery will pass on demand with fresh bread and other delicious goodies.
When you want to come with your own tent, caravan or camper, please contact us to know if one of the 6 places is available.
luxury safaritents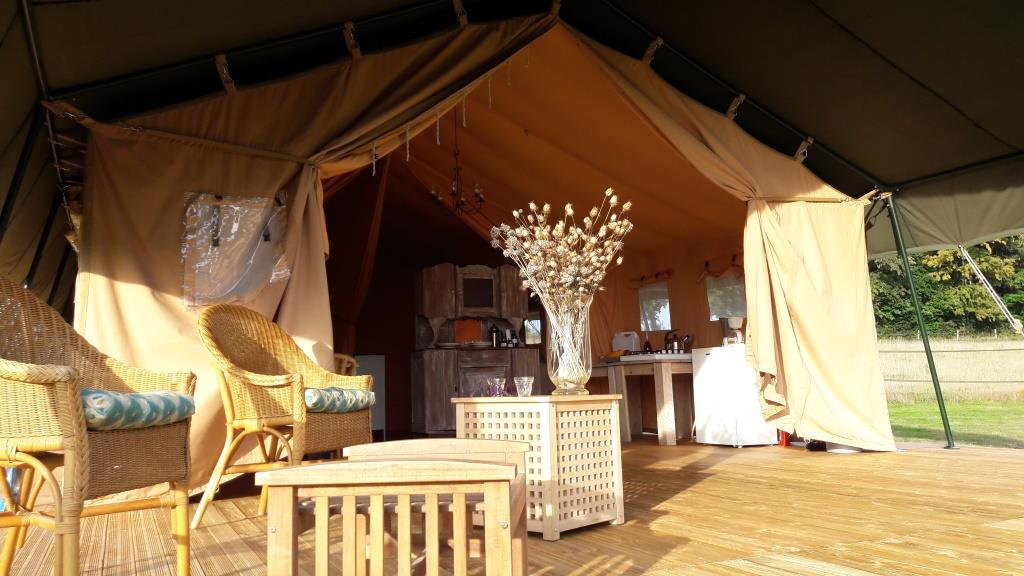 Our safaritents are huge. The separations inbetween the rooms are flexible. If you open them, the rooms even get bigger. Each tent has a bed room with a double bed and bedside tables. Next to the bed room a walk-in closet with enough place for your suitcases and cloaths. The frontpart of the tent has a kitchen corner and dining part. The terrace is partly covered and because the tent is put on a wooden landing stage, it provides nice views. 
The tents have all the comfort you'd need: a fridge with freezer, a 4-pits cooker and a jerrycan for water. You can use the showerblock of the campsite.
The pimped caravans
The blue caravan: Blue outside and blue-white inside. A joyfull 2-person caravan.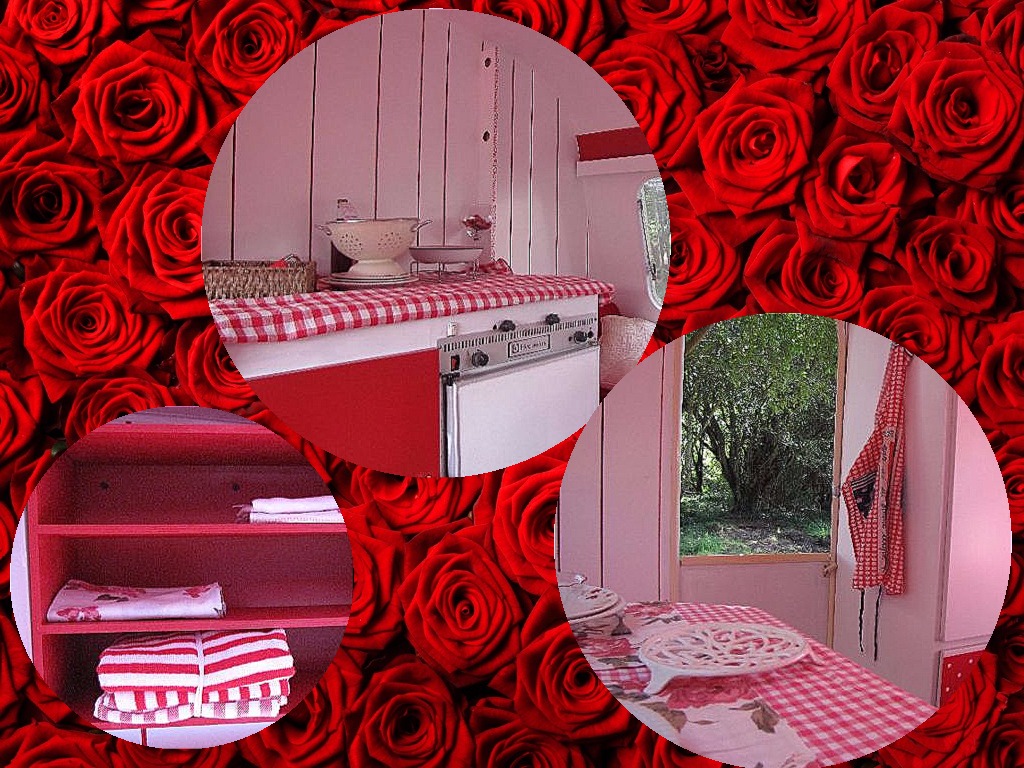 The red Wilk caravan: Full with harts, the ideal caravan for loving couples.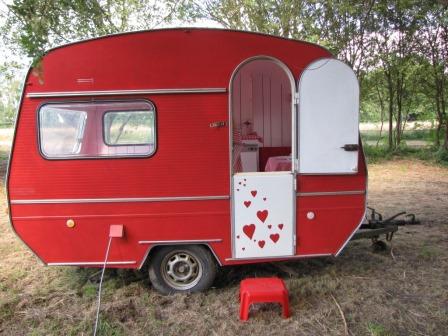 The Hippie Hobby caravan: The outside will be pimped soon too, but on the inside it's a real Hippie, full with sunny colourfull accesoires. Again a 2 person caravan.
Sitting on your terrace it's possible to spot all kind of birds like buzzards, owls, woodpeckers, cuckoos and even hoopoes. But possibly also deer, foxes, badgers or wild pigs and of course our gaited horses.
Of course we can provide you each week with towels and linen. So you don't have to bring anything. The final cleaning is included as well. Once you are installed, we invite you for a glass of local wine and we can help you getting familiar with the surroundings. We can inform you about the local markets and the "fêtes" taking place around us in the summer.
We do have a limited number of places for people who want to come with their own tent/caravan/camper. Please contact us to see if there's a place free.
We'd love to welcome you!!
Prices:
The pimped caravans for 2 persons: 300€ per week.

A Safari tent: 450€ per week.

Towels and bedlinen: 20€ per week

End cleaning : 40€

caution: 150€

A camp place with your own tent/caravan costs 15€00 per night (max 2 persons). More people 3€50 per night per person extra.

Electricity 3€50 per night per place.

Tourist taxes 0,26€ per person per night